About Us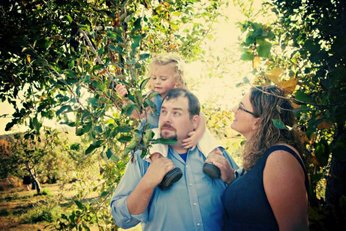 A Cookie Family is owned and operated by a small town Iowa family, located between Cedar Rapids and Tama in a happy little place called Van Horne.

Each member of our family plays an important part in making sure your cookies are done correctly:

Aaron, often referred to as "Cookie Daddy" makes the dough, creates custom cookie cutters, rolls and cuts the cookies and helps with deliveries. Aaron currently also works full time as an operator at a power plant in the Cedar Rapids area. Aaron is incredibly handy around the house and is the sort of person who can fix just about anything. He's also annoyingly great at brain teasers/puzzles (to the point that we've stopped buying them because they only provide a few moments of entertainment!). Aaron collects Pez Dispensers and Power Tools.

Amber, sometimes referred to as "Cookie Momma" does most of the baking, decorating and social media/website updates. Amber also works full time for an advertising related company in the Cedar Rapids area. When not making cookies, Amber enjoys travelling -- she has been to all but 3 of the 50 states and travels internationally as well -- including sailing from South Africa to Boston! She also loves scrapbooking and settling down with a nice glass of wine at the end of a long work week!

Averie, sometimes noted as "Miss Cookie" provides endless hours of entertainment as we work on cookies. On occasion she can be found helping wash up dishes after decorating -- she loves to play with the extra icing, mixing the colors! Once in while an order for family and friends will find the way out of our door containing an extra cookie that was specially decorated by "Miss Cookie" herself. Averie is currently enrolled in preschool and loves to do arts and crafts projects of any variety. She also loves My Little Ponies, princesses, super heroes and dinosaurs!
---